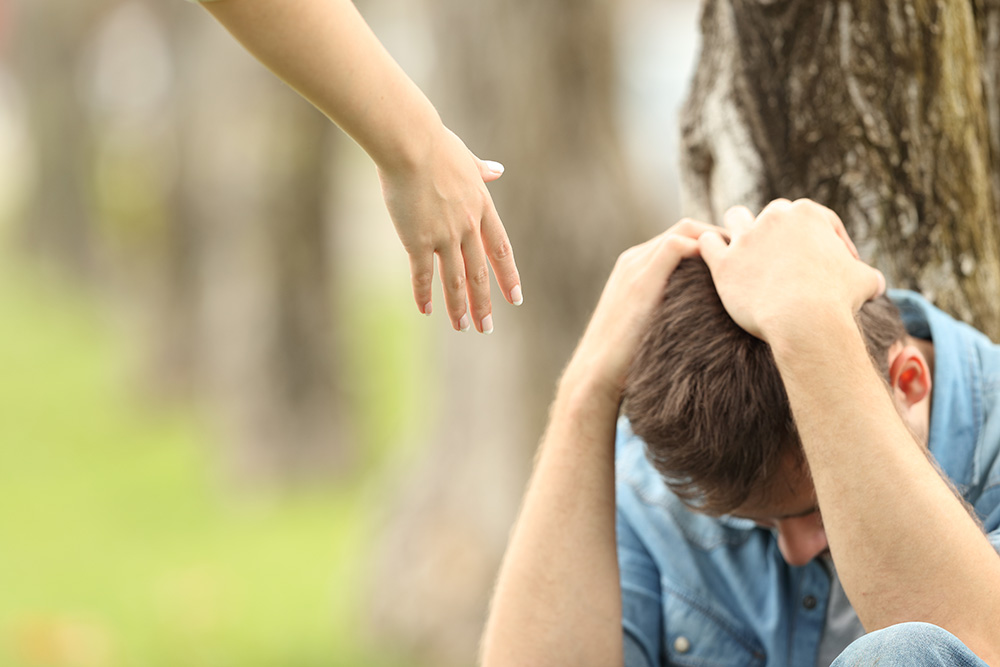 Find Help
Are you or a loved one experiencing a behavioral health crisis? If so, please call our 24-hour Crisis Hotline at 1-800-252-0227.
If there is the risk of harm to you or another person, please call 911 or go to the nearest Hospital Emergency Room:
General Information, Referrals and Appointments: 413-499-0412
Do you have questions about the Brien Center's many treatment options, programs and services? Our trained staff can help!
We accept referrals from hospital emergency departments, physicians and practitioners, parents and guardians, other social service agencies, courts, and family service departments.
Physicians and Practitioners: please call 413-499-0412.
Need an appointment? Call 413-499-0412 to make an appointment with your Brien Center therapist or practitioner, or to find out how to connect with any of our outpatient or community-based services.
All of The Brien Center's staff can be reached by calling our main switchboard at 413-499-0412.
If this is an emergency, call our 24-hour CRISIS HOTLINE at 800-252-0227.
Services Directory
Learn more about The Brien Center's many treatment options and services by exploring each of our divisions:
CBHC and Emergency Services
Crisis Assessment, Intervention and Stabilization Services
24-hour Mobile Crisis Response for Berkshire County Residents of any age
Adult Community Crisis Stabilization Programs (CCS) – Pomeroy House
Adult Respite Service Program – Brenton House
Child and Adolescent Crisis Services
Collaboration with Law Enforcement
Emergency Services Program (ESP)
24-hour Mobile Crisis Response through our Acute Care Services Division
Addiction Treatment and Services
Community Support Program
Court-referred Programs
Dialectical Behavior Therapy (DBT)
Families in Transition Program
Individual, couples, family and group therapy
Medication Management
Priority Services for Pregnant and Post-partum Women
Psychological testing
Psychopharmacology
Sex Offender Treatment
Social Service Agency Consultation and Referral
Specialized Group Treatment
Transitional Services Program
Urgent Care
24-hour Mobile Crisis Response through our Acute Care Services Division
Anxiety Disorders
Attention Deficit/Hyperactivity Disorder (ADHD)
Children's Behavioral Health Initiative (CBHI)
Community Services Agency (CSA) Programs
Caring Together Continuum Services
Disruptive Behavior Disorders
Eating Disorders
Medication Management
Mood disorders including depression and bi-polar
Patrick Miller Youth Substance Abuse Program
Play Therapy
Psychopharmacology evaluations
Therapeutic After-School Program ("Options for Youth" and "South Forty")
Therapy For Individuals, Families, and Groups
Trauma Evaluations and Treatment
"Wrap-around" Services
Adult Community Clinical Services (ACCS)

Medication Management
Staffed Community Residences
Community Outreach Program
Transitional Age Youth Residence
Services by Location
Pittsfield
251 Fenn Street   Map
Child and Adolescent Services
Psychiatric Services
333 East Street   Map
Adult and Family Services
Psychiatric Services
334 Fenn Street   Map
359 Fenn Street   Map
The Brien Center's
Administrative Headquarters
66 West Street   Map
North Adams
124 American Legion Drive   Map
Acute Care Services
Adult and Family Services
Child and Adolescent Services
Community Services
Psychiatric Services
Outreach Services
Great Barrington
60 Cottage Street   Map
Acute Care Services
Adult and Family Services
Child and Adolescent Services
Community Services
Psychiatric Services